The Solid Waste Division is responsible for the collection of household refuse, yard debris (grass clippings, leaves, limbs up to 12" in diameter and no more than 6' in length), recyclable items and commercial refuse. Refuse is collected on a weekly basis while recyclables and yard debris are collected biweekly. White Goods/Bulky Items are removed free-of-charge on Wednesdays by appointment only.
Refuse pickup is combined with your water and sewer bill.  To open a new account, you must come to the City Hall Addition in person.  You must bring a photo ID, copy of your lease or option to buy and a $100 deposit.
Refuse collection: $25.00 flat rate per month
Note: The City has altered the collection routes in order to increase efficiency for our customers. After June 1, 2015, new rules and new routes will be in effect. Only a small percentage of citizens are affected, however if you wish to see what day your pickup is on, you can use the solid waste route lookup form below.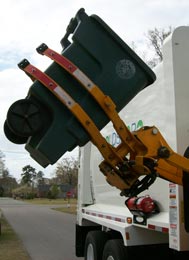 The most effective means of reporting a comment or complaint related to Solid Waste is by calling the city directly at 919-739-7450. This online form is an alternative which goes to the City's Solid Wast Division, please fill our the fields below to submit your issues.