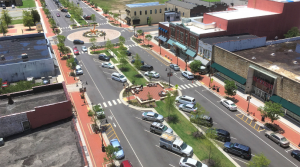 The City of Goldsboro hosted a forum on Jan. 26 to hear input from downtown stakeholders — including residents, visitors, business owners, employees, property owners, landlords, and developers — regarding parking throughout the downtown area. Parking affects everyone who visits downtown Goldsboro, regardless of frequency. The goal of this public meeting was to gather input and feedback regarding downtown parking capacity and use, in an effort to determine the best way to manage changing parking needs.
Background:
In 2016, a traffic and parking study was done to analyze available parking, traffic conditions, patterns of use and opportunities. The study found that there were 1,929 parking spaces downtown, and determined that wayfinding signage was needed to help direct and inform the public. Wayfinding was added in 2020, however downtown has realized significant growth in the last three years, doubling the number of upper story apartments, realizing 40 building rehabilitations. This is fantastic progress, though it has led to congestion of street parking and a change in traffic/parking patterns that require the City to revisit management and education strategies.
To review the 2016 Traffic & Parking Study, click here.
Meeting Video
Meeting Presentation