Mission Statement:
The mission of the Human Resources Department is to support the goals and address the challenges of the City of Goldsboro. We provide services that promote a work environment that is characterized by fair treatment of staff, open communications, personal accountability, trust and mutual respect. We provide solutions to workplace issues that support and optimize the values and beliefs of the City of Goldsboro. The Human Resources Department will elevate and maintain morale by improving communications with employees and fostering an information rich environment.
The City of Goldsboro employs over 475 full-time and part-time personnel, and the Human Resources Management Department provides a range of comprehensive services that includes employee selection and recruitment, salary and compensation, benefits, professional development, employee relations, employee health/wellness, and compliance with federal and state safety regulations.
Employment Info and Status
Does the idea of providing public service excite you? If so, have you considered a career in local government? The City of Goldsboro provides a range of employment opportunities in administrative, supervisory/administrative support, technical, clerical and operational trade categories.
Value Statement
It is our goal to celebrate teamwork. We encourage the diversity of thoughts, experience and backgrounds and encourage participation and partnership in all of our endeavors. We ensure that your concerns are forwarded to appropriate Human Resources' personnel and addressed in a timely manner.
Recruitment and Hiring
If you are interested in becoming a City of Goldsboro employee, job vacancies are updated as needed on our jobs website. We also advertise through local media, the Employment Security Commission, and various civic and community organizations. There is also a job hotline that is updated weekly and can be accessed 24 hours a day at (919) 580-4296. You will be required to submit all Job Applications online. The applications may be completed on your home computer or from a public computer in our lobby, at the public library, or at any other location offering Internet access. A separate application must be submitted for each position you are interested in. You may include a resume, however, they are not accepted in lieu of a completed City of Goldsboro employment application. Vacancies without a closing date may be filled at any time. The City of Goldsboro is an Equal Opportunity/Affirmative Action/Drug-Free Employer.
Download Application
BLET Scholarship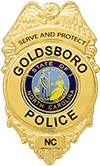 The City of Goldsboro is now offering at least two (2) scholarships, up to a maximum of $5000, to Goldsboro or Wayne County residents who demonstrate a financial need. A monthly stipend will also be awarded, not to exceed $5000, over the duration of the program. Download the application to learn more about the requirements and how to submit. Please see our BLET Flyer for more information.
Application period now OPEN
Download Application
Find Jobs
New Online Application System
---
You will be required to submit all Job Applications online. The applications may be completed on your home computer or from a public computer in our lobby, at the public library, or at any other location offering Internet access by placing the following link into your web browser:
http://agency.governmentjobs.com/goldsboronc/default.cfm
This process will require you to have an email address which will be used to contact you throughout the hiring process. If you do not currently have an email address, there are several free options available to you:
gmail.com yahoo.com aol.com hotmail.com
Find Jobs
Human Resources Director
Senior Human Resources Consultant
Human Resources Consultant

Occupational Health Nurse
Safety Coordinator
Human Resources Technician
Employee Health & Wellness
Safety & Training
Personnel Policy Manual
Employee Benefits Summary
NC Retirement Estimate Only
Orbit
Salary Schedule
Holiday Holidays 2016
Police Pre-Employment Procedures & Min Requirements
NCDOJ Form F3
career
careers
Employees Resources
Human Resources Home
Employee Health & Wellness
Safety & Training
Personnel Policy Manual
Employee Benefits Summary
NC Retirement Estimate Only
Orbit
Salary Schedule
Holidays 2016
Police Pre-Employment Procedures & Min Requirements
NCDOJ Form F3