Employee Performance Awards
Employee of the Quarter — Darren Goroski
Darren has done amazing things with Information Technology (IT) program development and his professionalism and resourcefulness are recognized across the state of North Carolina. During this period, the City's fully automated ChatBot that he created became available to the public to answer frequently asked questions and provide important information. It has been the focus of numerous IT professional presentations and requests for assistance. The capability started as a desire to provide better customer service to citizens through online live chat. It quickly morphed into a ChatBot with artificial intelligence that provides an immediate response to a majority of the questions City staff are asked thereby saving residents, visitors, and employees valuable time and effort, making all more effective and efficient. The ChatBot is now available through SMS/Text messaging to everyone with a cell phone. It can also be used to deliver important public information messages to those who want to receive them for events or activities such as: hurricanes or pandemics; water main breaks or trash pickup changes. The ChatBot made over 6,000 phone calls to water customers due to the COVID-19 pandemic to notify them that City facilities were open by appointment only and that they should conduct business online in accordance with the North Carolina Governor "Stay at Home" Executive Orders to enable appropriate social distancing, help slow the spread of the virus, and potentially save lives. Darren's exceptional commitment to excellence in government service brings credit to himself and the City of Goldsboro.
---
Employee of the Quarter — Officer Michael Rivers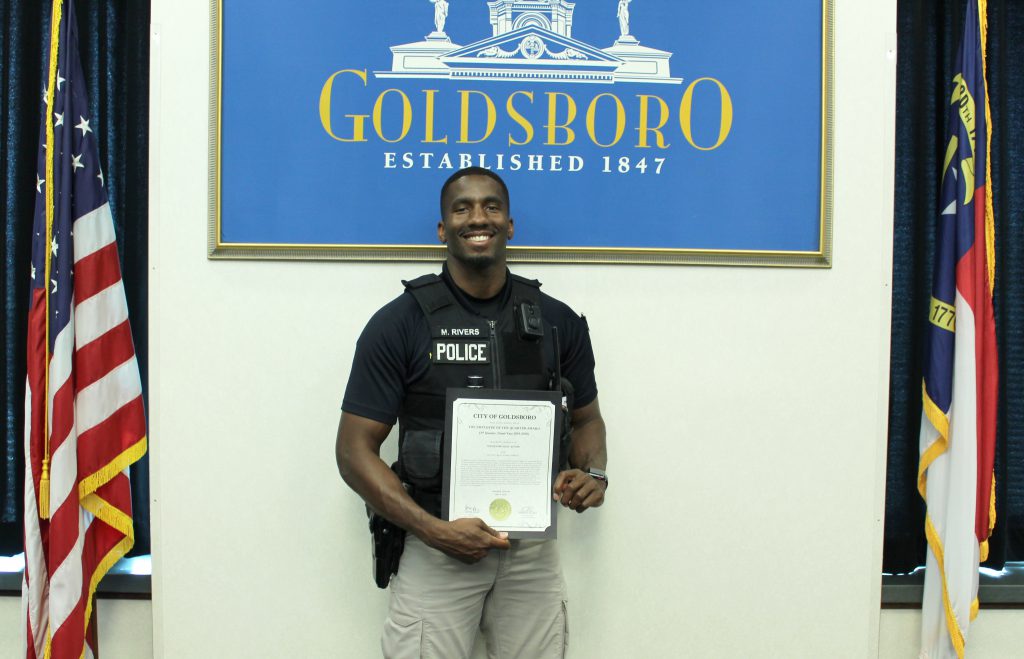 In March 2020, Officer Michael Rivers was patrolling the area of Spence Avenue and Royal Avenue when he observed a female sitting in the grass near the exit from a parking lot to Royal Avenue. Officer Rivers made eye contact with the woman, waved and said "hey" as he drove away. Officer Rivers felt the need to do more so he turned around, stopped and bought some food, and then returned to where the woman was sitting. Officer Rivers then gave the woman the food he had bought and spent his entire lunch break sitting in the grass with her to learn about her and her family. A passerby took a picture and posted it on social media and within a couple of days, a national news outlet did a story on it. Since then, the Goldsboro Police Department has received numerous emails from across the country recognizing Officer Rivers. This simple act of kindness is an example of who Officer Michael Rivers is, and what the Goldsboro Police Department strives to be every day. Officer Rivers' exceptional commitment to the safety and well-being of the residents and visitors of Goldsboro brings credit to himself and the City of Goldsboro.
---
Supervisor of the Quarter — Corporal Kenneth Prevost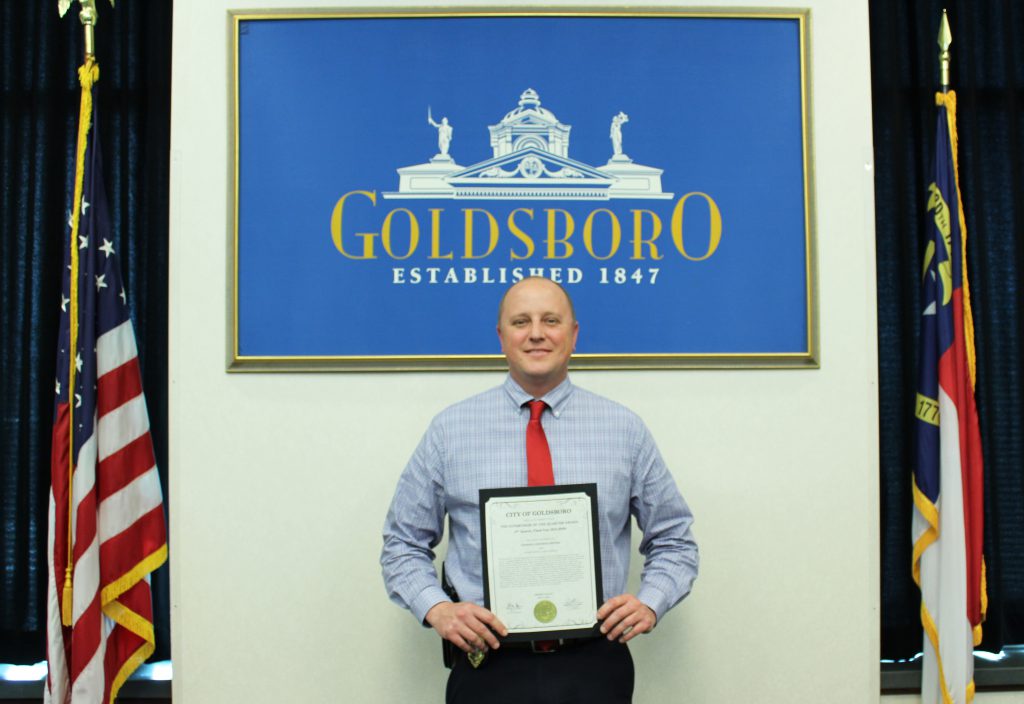 On December 8, 2019 Corporal Prevost was assigned as the Police Department's downtown officer. At approximately 20:14 hours, he was asked to assist an elderly gentleman at 128 South Center Street. Corporal Prevost made contact with Mr. Ray Livingston from New Bern who had become disoriented in his travels. Mr. Livingston had no family in the area to assist him. Corporal Prevost with the assistance of Councilman Williams took the time to figure out what was going on with Mr. Livingston. A plan was made with Mr.Livingston and his family that Corporal Prevost would take Mr. Livingston to a local hotel and arrangements would be made to get him to Raleigh the next day for a flight to be with his daughter. Corporal Prevost spent approximately 3.5 hours assisting Mr. Livingston that evening. He was respectful, courteous, and demonstrated a true concern for Mr. Livingston. The service rendered by Corporal Prevost is an example for all in how to treat others. The teamwork demonstrated by Corporal Prevost and Councilman Williams is a true example of how we should act as a community when others are in need. Corporal Prevost's exceptional commitment to the safety and well-being of a Goldsboro visitor brings credit to himself and the City of Goldsboro.