I would like to ask each of you to consider voting YES for both the Infrastructure Bond ($7 million) and the Parks and Recreation Bond ($3 million) that you will find on the ballot in the upcoming November 08, 2016 election. We frequently have citizens asking us about doing more paving work. Goldsboro has an estimated $20 million worth of resurfacing and $7 million worth of dirt street paving needs today. We budget $500,000 per year towards resurfacing and until this year, nothing had been budgeted for dirt street paving. If the bond issue passes, we can expedite about 14 years worth of paving into the next three years, with NO tax increase to our citizens.
Equally important is the Parks and Recreation Bond ($3 million). This bond will complete construction of the multi-sport complex which is a partnership with Wayne County and Seymour Johnson AFB to build eight multi-sport fields on 62 acres the base owns at the back gate on Oak Forest Road adjacent to Meadow Lane School. This is a $7 million dollar project of which we have $4 million committed. The money we have today basically allows us to build about half the project now and the remainder in future years. If the bond issue is approved, it would enable us to complete all eight fields with some restrooms and parking and have a facility that is a first class sports venue and one of the nicest in the Region. It is expected a majority of this debt will be covered by Tourism dollars generated by the facility, and NO tax increase is needed for this bond passage as well.
In closing, please know that blight, the cleanliness of our city, policing and crime continue to be items we work on daily. I ask that all of our citizens do their part to help us with these issues as they affect everyone and keeping our city clean and safe is everyone's responsibility. Please know that we have some 449 employees working hard every day to make our city better, and I ask that when you encounter one of them doing their job well you stop and thank them.
I thank you for your time and ask again that you consider voting YES for both Bond issues as their passage would help us improve the quality of life for all our citizens.
Until next time with warmest regards I am,
Chuck Allen
Mayor
$7,000,000 Infrastructure Bond Referendum
Project Description
The City of Goldsboro has 163 miles of paved and 9 miles of unpaved city streets. The work to maintain, repair and improve our streets ranges from patching, crack sealing, drainage improvements, resurfacing, and construction. Funding the city receives from the state is not enough to meet the need. Therefore, local funding is regularly allocated in the budget process to maintain and resurface city streets.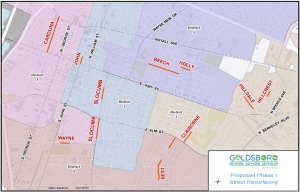 $3,000,000 Parks and Recreation Bond Referendum
Project Description
The City of Goldsboro proposes to lease a 62.35 acre property located off Oak Forest Road and behind Meadow Lane Elementary School from the United States Air Force to be used for a multi-sport complex that will serve the Goldsboro, SJAFB and Wayne County community as the premier practice, game and tournament venue for youth and adult field sports such as football, soccer, lacrosse, field hockey, and ultimate frisbee. The facilities will be the crown jewel of the Goldsboro Parks and Recreation Department and the joint sports leagues of the Family YMCA, Boys and Girls Club, and SJAFB Athletics Department.