Another environmental nutrient reduction project built in 2002 is the Reclaimed Water Project which uses advanced treated wastewater that has been double disinfected with ultra-violet light and chlorine. This high quality reclaimed water is piped to an irrigation system that is used on a 144-acre City farmland and the City golf course.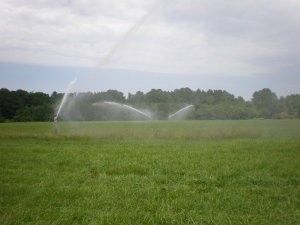 Water used for irrigation prevents nitrogen from entering the Neuse River as well as conserves drinking water from being used for irrigation. The cost of construction of this project was approximately $3 million. The North Carolina Clean Water Management Trust Fund provided $789,360 to help the City pay for this construction project.
The City has a reclaimed water permit that allows bulk distribution of reclaimed water for the watering of public and private landscapes and turfs, street sweeping, sewer line cleaning, vehicle washing, power washing, decorative ponds and fountains, soil compaction and dust suppression, as well as fire fighting. These reclaimed water bulk uses are particularly important during periods of drought when it is important to preserve drinking water.