The Paramount Theatre Announces its 2019-2020 Performing Arts Series
The Paramount Theatre announces its 12th annual performing arts series, featuring exciting new artists alongside traditional favorites. Downtown Goldsboro will once again serve as the region's premiere entertainment destination, with professional artists from across the country representing a multitude of contemporary and classical performance genres, including music, dance, and children's theatre.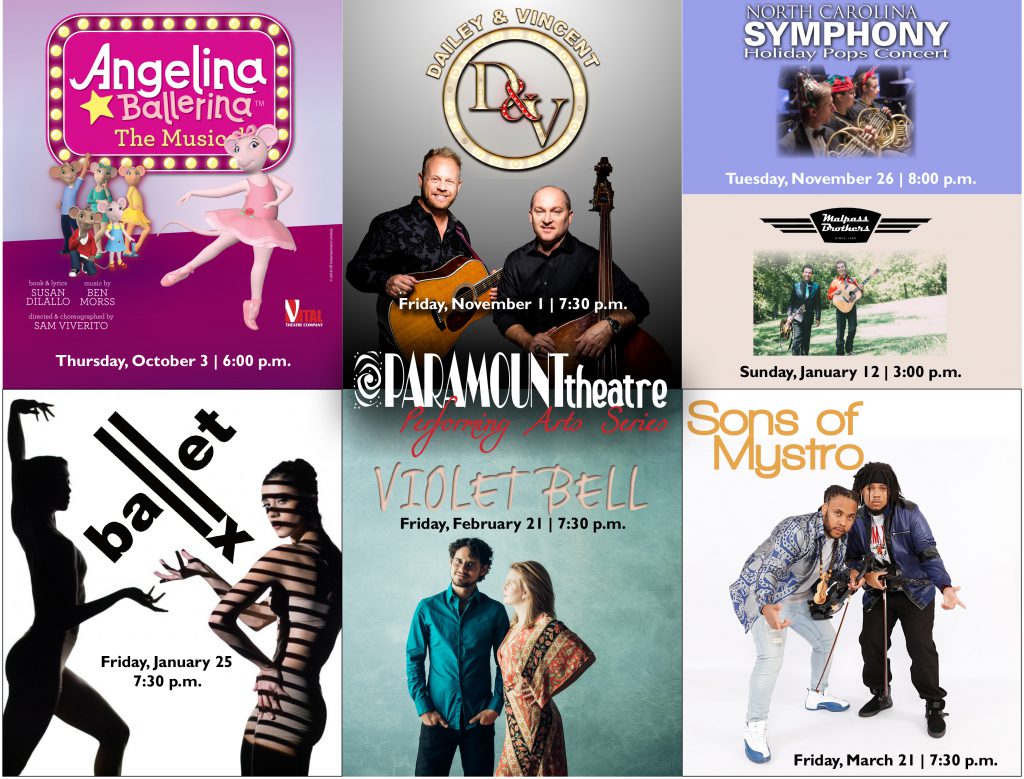 "The uplifting musical…thoroughly captivates its young viewers." Backstage.com
The annual Series will open with Vital Theatre Company's production of Angelina Ballerina the Musical on October 3 at 6 p.m. Based on the CG-animated series "Angelina Ballerina The Next Steps," this musical by Susan DiLallo and Ben Morss features Angelina and her friends performing a variety of dance styles, including hip-hop, modern, ballet, and even an Irish jig, to show off their skills to a special visitor. In addition to the public performance, the Paramount will once again collaborate with Partnership for Children, to ensure that Wayne County preschoolers have an opportunity to attend during a school day.
"Stand back or face the force of nature that is this astounding ensemble." Music Row Magazine
The Series will continue on November 1 at 7:30 p.m. with Grand Ole Opry Stars and Multi-Award Winners Dailey & Vincent. The duo is riding a wave of critical acclaim for their brand-new release, Patriots & Poets, as well as their nationally broadcast, weekly TV series. Backed by one of the hottest bands on tour today, and regarded among the most reputable and elite entertainers in American music, Dailey & Vincent's sound is a concoction of traditional country, gospel and bluegrass blended together by the fantastically instinctive vocal blends of Dailey's tenor and Vincent's reedy harmonies.
An annual tradition in Goldsboro
North Carolina Symphony's Holiday Pops Concert will return to the Paramount on November 26 at 8 p.m., following Downtown Goldsboro's Lights Up Downtown Festival. A vital component of North Carolina's cultural life, and the nation's oldest State orchestra, the Symphony's Holiday Pops Concert has been a time-honored tradition and audience favorite for many years at the Paramount.
"The Malpass Brothers …the best traditional country music that can be seen today." Bluegrass Today
The Malpass Brothers, another fan favorite, will return to the Paramount on January 12 at 3 p.m. Goldsboro natives Christopher and Taylor Malpass started performing the music of classic country artists at a young age. They continue to keep those traditions alive with an original brand of music, rich with American cultural heritage. The Malpass Brothers' annual concert is sponsored by the Paramount Theatre Foundation, whose ongoing support ensures outstanding performing arts programming and state-of-the-art theatre technology for the Paramount and the City of Goldsboro.
"…fresh, touching, musical, original." The New York Times
The Performing Arts Series will continue the new year on January 25 at 7:30 p.m. with Philadelphia's premier contemporary dance company, BalletX, which unites distinguished choreographers with an outstanding company of world-class dancers. Through new works of athleticism, emotion, and grace, BalletX challenges the boundaries of classical ballet by encouraging formal experimentation while preserving rigorous technique. The company is committed to producing new works of the highest quality and integrity that bring the combined visions of choreographers and dancers to life and cultivate in audiences a collective appetite for bold, new dance.
"…overflowing with talent, heart and originality" The Evening Muse
Violet Bell will bring their original Americana, woven from threads of folk, soul, bluegrass, psychedelic, and classical music, to the Paramount on February 21 at 7:30 p.m. On stage and in the studio, the energy between Lizzy Ross and Omar Ruiz-Lopez is fiery, intimate and intuitive. Based out of Durham, the pair have played shows from Montreal to Miami since forming in 2016, resulting in a strong onstage chemistry that's evident in person and in videos of these live performances.
"the band dazzled alongside each other, their chemistry drawing the crowd" TropiCult
The Performing Arts Series will close on March 21 at 7:30 p.m. with Sons of Mystro. The South Florida brothers use their violins to interpret reggae classics, American pop songs and their own creations accompanied by beats, and sometimes a DJ & guitarist. Winners of the Emerging Artist under 21yrs Old Award at IRAWMA (International Reggae and World Music Awards), and mentored by Black Violin, these artists' stars are on the rise.
Full series packages and three-show packages to the Performing Arts Series are available now at discounted rates. Single tickets will be available June 1. Packages and tickets are available at the Paramount Theatre Box Office, online at www.GoldsboroParamount.com or by calling 919-583-8432.
In addition to the annual series of professional performances, the Paramount will continue its tradition of classic and family movies with Angels in the Outfield (September 29), Steel Magnolias (October 8), Haunted Mansion (October 29), It's a Wonderful Life (December 18), Space Jam (January 28), James & the Giant Peach (February 16), and Jumanji (May 17). New this year, movie package holders receive free popcorn at the movie events. Movie tickets are included in all full series packages.