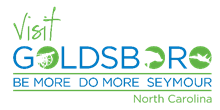 For Immediate Release
Wednesday, February 6, 2019
Sudan Shriners Conference Generates More Than $200,000 in Local Spending
Goldsboro, N.C. — An estimated 1,000 Sudan Shriners and their guests visited Goldsboro for the organization's annual Winter Ceremonial Conference and Election of Officers Jan. 25-27, resulting in an economic impact of $203,409, according to a report by Visit Goldsboro.  The Maxwell Center, eastern North Carolina's newest convention center, was the host site for the conference.
Of the 1,000 Shriners in attendance, local Goldsboro hotels reported an estimated 315 rooms booked per night, and the average length of stay was 2 nights. Each overnight stay had an average of 2.5 people per travel party, which translates into 787 people staying in Goldsboro hotels. An additional 215 estimated visitors were reported as daytrippers over the weekend to attend business meetings and festivities related to the event. The average travel party for daytrippers consisted of 2 people, which places another 108 visitor parties in Goldsboro-Wayne for day visits.
"Knowing they have a choice when it comes to picking a host city for their events, it was an absolute honor to roll out the red carpet for our visiting Sudan Shriners," said Ashlin Glatthar, Goldsboro's Travel and Tourism director. "January is known to be a slower month in terms of visitation to Goldsboro-Wayne County, but the Sudan Shriners brought life to our local hotels, restaurants, downtown, and Maxwell Center. We welcome them back any time."
The Shriners have traditionally held their Winter Ceremonial in New Bern, but damage from Hurricane Florence forced them to relocate. Goldsboro and the Maxwell Center did not disappoint, said George Reacher, a main event coordinator with the Sudan Shriners.
"We have a huge amount of positive feedback on the support and assistance given by the City of Goldsboro, Wayne County Government and the Wayne County School officials at Wayne Middle/High Academy," Reacher said. "Everyone loved and complimented the billboards coming into Goldsboro and loved the parade, as well as the Maxwell Center's capabilities. And the best comment of all is that Goldsboro is a great place to have another Sudan Shrine Ceremonial in the future."