City Council Selects Timothy M. Salmon as Next City Manager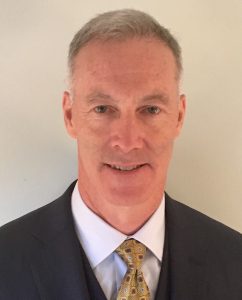 After an extensive search, the Goldsboro City Council hired Timothy M. Salmon as the new city manager for the City of Goldsboro. Salmon replaces Scott Stevens, who retired in September. Salmon's start date is May 1.
The City Council hired The Mercer Group, an independent management consulting firm, to conduct a national search for candidates. The Mercer Group selected nine individuals who they felt best fit Goldsboro. Council narrowed that list to four candidates they chose to interview.
"Of these four candidates, one candidate — Tim Salmon — seemed to resonate and stick out with the council members present at the interview," Mayor Chuck Allen said. "Tim presented himself with the utmost professional appearance and preparation for the interview and conducted himself in a manner that the council felt would resonate well with our citizens. Not to mention we were extremely impressed with the homework and time Tim had spent in Goldsboro prior to his interview learning about our town and council, etc."
Salmon is a retired U.S. Marine Corps colonel who comes to Goldsboro with over 30 years of leadership and management experience. He completed his military career in August 2018 at NATO Headquarters in Brussels, Belgium as the U.S. Military Delegation Acting Chief of Staff and a strategic planner, where he received a Defense Superior Service Medal and a Joint Service Commendation Medal for his actions. Salmon also served as commanding officer for Marine Corps Air Station New River in Jacksonville, N.C., where he was, in effect, city manager over 17,500 military personnel and their families and civilian employees.
"It is my belief that the skill set Tim has learned and developed in his military career will help him be a great city manager when dealing with many of the items he will deal with such as diversity, public trust, consensus building, budgeting and decision making to garner and maintain the confidence of the city council, our 450 employees and, most of all, our citizens he will serve," Allen said. "On behalf of myself and the rest of the City Council, I ask all our citizens to welcome and embrace him and his family on their relocation to Goldsboro. We will certainly have a meet and greet at the appropriate time so that our citizens will have the opportunity to meet him personally."
Salmon, a New Jersey native, has a Bachelor of Science degree in Political Science from the U.S. Naval Academy and a Master of Science degree in National Resource Strategy from the Industrial College of the Armed Forces.
"I am excited to work with the Mayor, Councilmembers, employees, and citizens of Goldsboro to enhance the quality of life for all residents and visitors," Salmon said. "This is a tremendous opportunity for my wife Annette and me to continue serving our fellow Americans in the great state of North Carolina."